Details

Category: SYS Pages
SAZ Site-Coordinator Brittney Gentile receives "Excellence in Afterschool" Award from the New Hampshire Afterschool Network!
http://www.seacoastonline.com/news/20160407/gentile-receives-excellence-in-afterschool-award
This email address is being protected from spambots. You need JavaScript enabled to view it.
April 07. 2016 5:59PM
Gentile receives 'Excellence in Afterschool' award
SEABROOK — Brittney Gentile, site coordinator of the Seabrook Adventure Zone, recently received this year's New Hampshire Afterschool Network "Excellence in Afterschool" award.
The New Hampshire Afterschool Network chooses one recipient each year for the award. According to the organization's website, the group recognizes one afterschool professional who fosters and encourages the development and sustainability of high quality afterschool programming, improves afterschool professionalism, and improves program quality by providing a wide variety of extended learning opportunities during out-of-school hours.
"Finding out that I was the recipient of this award has shown me that my coworkers and peers appreciate what I do for Seabrook Adventure Zone (SAZ), which makes me feel great," said Gentile.
"It's amazing to get recognition for a job that I love so much."
Gentile's co-workers and supervisors lauded her for her commitment to youth. "Brittney is an incredible site coordinator for the Seabrook Adventure Zone and was highly recommended by the prior site coordinator and current program director at the Seabrook Recreation Department, Cassandra Carter," said Forrest Carter, Jr., program director at Seacoast Youth Services and Seabrook Adventure Zone.
Cassandra Carter agreed, noting Gentile's strengths include her steady demeanor when working with children. "Patience is key when working with youth, and Brittney has it," Carter said. "I knew Brittney would flourish as the site coordinator for the Seabrook Adventure Zone. Brittney is well deserving of this award."
Gentile worked with Cassandra and Forrest Carter at Seabrook Recreation Department for 10 years before moving into the position of site coordinator at SAZ two years ago. "Every summer she is involved with the summer camp at Seabrook Recreation Department and I look forward to having her every year," Cassandra Carter said.
Gentile began working as a counselor at the Rec's summer camp program when she was 15 years old and eventually became a supervisor. She attended Northern Essex Community College in Haverhill, Massachusetts, and majored in elementary education. "I've wanted to be a teacher for as long as I could remember," said Gentile, "but I love being in the afterschool field. I can see myself in this field for a while."
Gentile said she enjoys the afterschool atmosphere, which tends to be more relaxed than a traditional classroom setting. "Everyone is very welcoming of one another, students and staff," she said. Gentile said she enjoys the enthusiasm of SAZ students rushing into the cafeteria to gather at the end of the school day. "It's very clear that everyone in SAZ has that sense of belonging. I give out a lot of high fives and fist bumps!" she said.
Forrest Carter said Gentile engages with SAZ students and staff and acts as direct supervisor to SAZ interns from University of New Hampshire and Northern Essex Community College. He said she excels in event planning and afterschool advocacy. "She truly embodies the innovative thinking, initiative, and integrity that all afterschool professionals strive to maintain," Carter said. "We are lucky to have such a dedicated, passionate, and creative site coordinator with us at the Seabrook Adventure Zone."
Gentile appreciated the nod from the Carters and the state organization.
"I hope to leave a positive lasting impression on the students. I love my job and I want them to love being there as much as I do," she said.
SAZ on the FRONT PAGE of the DAILY NEWS!! Check it out!
http://www.newburyportnews.com/news/local_news/a-place-where-adventures-await/article_f8535e33-2523-51ef-b601-79cb1040b601.html
A place where adventures await
BY ANGELJEAN CHIARAMIDA STAFF WRITER | Posted: Saturday, February 6, 2016 3:21 am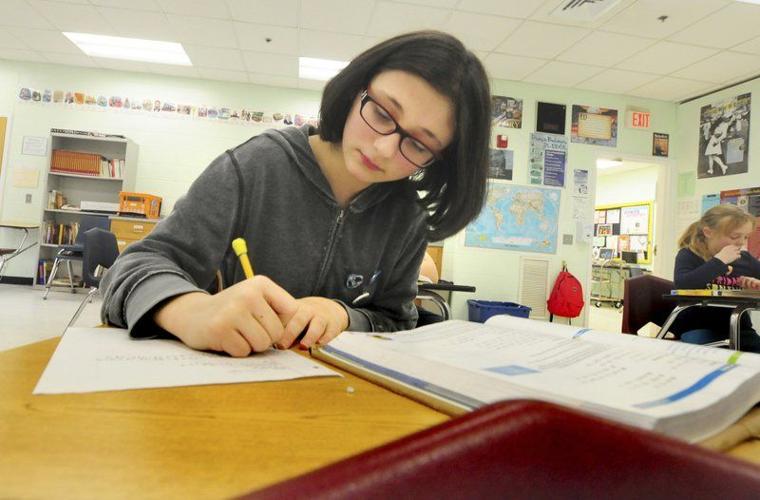 JIM VAIKNORAS/Staff photo Eighth grader Madison Fowler reads "The Call of the Wild" during the after-school program at Seabrook Middle School.
JIM VAIKNORAS/Staff photo Eighth grader Abby Silvestri does her math homework at the Seabrook Middle School after school program.
SEABROOK — Those who drop in at Seabrook Middle School after it lets out every afternoon won't find empty, silent halls. Instead, they'll discover a crowd of busy kids exploring a variety of engaging educational options.
The five-year program that is keeping kids busy after school is Seabrook Adventure Zone or SAZ. The 21st century grant created initiative has about 140 students involved, according to program director Forest Carter, Jr. That's almost half of the roughly 300 children enrolled at the middle school.
"This isn't a punitive program; it's not detention that keeps them here," Carter said. "It's voluntary. It's free. All they have to do is sign up. Five years ago, we had about five to 10 kids in the program every day. Now, there's from 40 to 60 students any day of the week."
Some attend daily, he said, and some on select days. But whenever they go, they're busy and active.
The time of day these students are supervised in productive activities is important. It's been shown the hours between when school lets out and when working parents return home are the most dangerous times for children. SAZ provides an instructive, adult-monitored alternative for kids from 2:30 to 5:30 p.m., Carter said.
"We start at 2:30 in the cafeteria and the kids get a full, well-balanced meal," Carter said. "Then everyone takes part in the homework component from 3 to 3:30. After that, kids can chose one of the 'Adventure Zone' programs offered that day. There's even an extended homework zone when kids have problems and need extra help."
This SAZ cycle, among other things, kids can take Survivor SAZ or ultimate dodgeball, sports frenzy, simple science, Minecraft Madness, sci-fi explorers or gymnastics.
On Tuesdays and Thursdays, Tabatha Cole arrives, offering Crommish Manor Time Warp and Dracula Theater Rehearsal.
"I especially like Tuesdays and Thursdays when Tabby comes," said SAZ student Jonathan Savely. "She's a live-action story-teller. She takes us back or forward in time (with Crommish Manor). And she lets us have partial control of the story, which is great."
As Jonathan spoke, Madison Fowler and other SAZ students looked up from their homework to nod.
For eighth-grader Abby Silvestri, Cole is a fun option, but it's the whole package offered by SAZ that appeals to her.
"I love being in SAZ," Abby said. "I've been in it since I was in the sixth grade. I get my homework done. I can relax. I meet a bunch of cool people."
That's the goal, Forest said. SAZ is described as a program offering a comprehensive after- school opportunities, as well as summer programs, focused on improving academic achievement and other social, physical and emotional enrichment activities.
"During the homework component, we have certified teachers who help kids," Carter said. "And we can access the kids' records and see if they've missed assignments and get them what they need. Since the program started, we've surpassed our goals in educational achievement every year, as well as all our other goals."
For kids having a bad day, SAZ can help.
"A lot of what we do is youth development and socialization," Carter said. "When someone has a bad day, we can take 10 or 15 minutes to discuss it and find out what's happening."
Carter works with a professional team, he said, including site coordinator Brittney Gentile and program leaders Owen Duffy, Paige Wasson and Shannon Brunault. A number of interns from the University of New Hampshire and Northern Essex Community College are also involved to offer one-on-one held when needed.
The grant is a partnership between community group Seacoast Youth Services and Seabrook Middle School, Carter said,along with Seabrook Community/Recreation Center, UNH's Cooperative Extension and 4-H, and New Hampshire Food Bank.
The $105,000 annual budget pays for the staff, food and materials, Carter said. The original 5-year 21st Century grant paid the full cost for the first three years, he said, then decreased its funding for the last two, when Seabrook School District agreed to picked up the rest, or $35,000.
This is the last year of the original five-year grant, Carter said, and a new grant request for another five years is being readied. He's hopeful Seabrook's program — given its success — will be one of the 10 or 12 that get the nod from the state Department of Education.
But just in case that doesn't, Carter has a citizens petition on the town March warrant requesting $60,000 to continue the program next year. Both selectmen and the Budget Committee recommended it.
"If we get the grant, we won't need that money," he said. "But we didn't want to take a chance of the program being interrupted. It's too important."
With or without the next grant, the plan is to make SAZ self-sustaining eventually, without charging families a fee.
"We don't want to have to charge for it," Carter said. "From the results we've seen, we don't want to put up any barriers that could keep kids from being able to take part in SAZ."
Check out this AWESOME article highlighting the SAZ & SRD Lights On Afterschool Halloween Event!
http://www.seacoastonline.com/article/20151026/NEWS/151029336/101115
Spook-tacular fun at Afterschool Halloween event
SEABROOK — Hundreds of costumed children crowded the Seabrook Community Center when Seabrook Adventure Zone and Seabrook Recreation Department partnered for their first "Lights On Afterschool Halloween Family Event" Friday night. The celebration was part of an annual nationwide event to raise awareness about after school programs.
"It is the best event that we've ever had," said New Hampshire Afterschool Ambassador Forrest Carter, Jr.
Carter is the program director at Seacoast Youth Services and Seabrook Adventure Zone.
"It's a real community event now that we've combined our efforts," agreed Cassandra Carter, program director at Seabrook Recreation Department.
Seabrook Police Department provided detail support and lighting for the outdoor "Haunted Trail" activities that included "Devilish Dancing," "Pumpkin Bowling," and a "Mad Science Lab."
Indoors, children engaged in a costume parade, costume contests, pumpkin decorating contest, crafts, and raffles. The volunteers transformed the game room into a very convincing and popular haunted house. Activities for preschoolers that included crafts and a play area were held in the "Pumpkin Patch."
Raffles were sold that benefited scholarships for afterschool programs at the Recreation Department. Forrest Carter said that the proceeds help to keep the fees low and provide assistance to those who need it.
Among sponsors who contributed support, activities, snacks, dinner, and desserts for the event were O'Brien's General Store, Dianne's Fine Desserts, 4-H, Cider Hill Farm, Kona Ice, Seabrook PTO, and All About Fun.
Katie Boudreau, who attended the celebration with her children, said that it was the perfect occasion for her family.
"I think it promotes a lot of needed funding with the raffles and it's really fun and safe for the kids," she said.
"It's awesome," said 7-year old Ben Box, dressed as "Antman" for the event. Ben reveled in his highly-detailed handmade costume. "His mom had a very big investment in that one," said Ben's father, Brian, lightheartedly.
Check out this AWESOME article highlighting the SAZ Carnival Event!
http://www.seacoastonline.com/article/20150430/NEWS/150439861/101115/NEWS
By Kiki Evans
This email address is being protected from spambots. You need JavaScript enabled to view it.
April 30. 2015 11:03PM
Carnival event draws families together
Sisters Sarah and Emily Peabody and Brianna Bowden enjoying music, food, and games at the third annual Seabrook Adventure Zone Carnival Family Event that was held in Seabrook School District's cafeteria on Thursday, April 23. Photo by Kiki Evans
SEABROOK — A crowd of 200 children and adults attended Seabrook Adventure Zone's third annual Carnival Family Event that was held in Seabrook School District's cafeteria last week. Visitors enjoyed free games, food, prizes and a giant bouncy house at the event that was coordinated by SAZ Program Director Forrest Carter and his afterschool program staff.
"We get a really big turnout for this event," said Carter. "It's almost like our end-of-the-year kick-off."
Carter said the free event is held before the students' spring vacation, the last break of the year for students before the school year ends. He said that the nicer weather this time of year makes people want to get outside again and sometimes provides him with the chance to hold the event outdoors. "It also gives the parents a chance to see each other and spend some time together," he said.
Carter said the event offered a new game this year, where kids stood on numbered spots on the floor. When a giant spinning wheel landed on a numbered space, the child who stood on the corresponding numbered spot won a prize. The game continued throughout the event, with many prizes awarded. Other activities included face painting, spin art, cup ball, bank-a-ball, miniature golf and memory games.
Artwork by students in the SAZ afterschool program was on display in many areas of the cafeteria.
Seabrook PTO members were very busy making cotton candy to satisfy their customers. PTO members Laura Litcofsky, Nichole Ellsworth and Brandie Gaffney said their group is always brainstorming about fundraising ideas to help provide field trips, activities, and classroom essentials to support the students and staff at Seabrook Elementary School and Seabrook Middle School.
"Our purpose is not just about making money for the teachers and students' activities," said Litcofsky. "It's also to bring the community together."
A giant bouncy house and professional balloon artists were provided to SAZ at a very large discount by All About Fun from Groveland, Mass. "We feel we have to give back to the community," said owner Cheryl Mallory. "As a company, that's our philosophy."
Mallory provides the inflatable activities to Seabrook's Old Home Days and SAZ's Halloween event.
"The kids are having a great time," said parent Julie Landry. "Forrest is wonderful, and he really pulls it all together."
Landry said that her son Ryan, 11, wants to be the first child through the door at the start of the event each year.
"Forrest is such a good role model for the kids, it's amazing," agreed parent Jestine Dow. "My own children look up to him."
"I like hanging out with all of the kids, even the younger kids," said eighth-grader Brianna Bowden. Bowden has participated in SAZ throughout her middle school years and is getting ready to move up to Winnacunnet in the fall. "SAZ makes it easier to focus on getting my homework done," she said. "It's going to be so hard to get everything done, all of the homework, without SAZ next year."
"This event helps to show how important afterschool is to our kids," said Carter, who is also Afterschool Ambassador for New Hampshire. "The amount of people here shows the major role that afterschool has in our community."
Check out this great clip from Afterschool Ambassador Forrest Carter's local paper about his trip to D.C. for the Afterschool for All Challenge last week!
http://www.seacoastonline.com/article/20150316/NEWS/150319324/101141/NEWS
SEABROOK
Mr. Carter Goes to Washington
Adventure Zone director visits nation's capital to promote afterschool programs
Afterschool Ambassador for New Hampshire and Seabrook Adventure Zone Program Director Forrest Carter;visited government officials last week to urge them to continue funding;afterschool programs. Courtesy Photo
By Kiki Evans
hamptonunion@seacoastonline.com

Posted Mar. 16, 2015 at 5:37 PM
SEABROOK — Afterschool Ambassador for New Hampshire Forrest Carter traveled to Washington, D.C. last week to represent the town and state at the Afterschool for All Challenge.
Carter, who is also program director of Seabrook Adventure Zone, was joined on the trip by Executive Director for New Hampshire Afterschool Network Lynn Stanley. Together they met with representatives from the offices of Sen. Kelly Ayotte, Sen. Jeanne Shaheen and Rep. Frank Guinta to speak about the importance of afterschool programs.
The New Hampshire team encouraged the officials to continue their support of 21st Century Community Learning Centers' funding.
"21st CCLC is the only federal funding stream available for afterschool programs," said Carter.
The program supports the creation of community learning centers that provide academic enrichment opportunities during non-school hours for children, particularly students who attend high-poverty and low-performing schools.
"Seabrook Adventure Zone was created through the 21st CCLC funding stream by way of a successful grant written in partnership between Seacoast Youth Services and the Seabrook Middle School," said Carter. Carter said that he and Stanley were able to discuss the positive impacts that afterschool programs like the Seabrook Adventure Zone are having on youth. Carter said the New Hampshire team was well-received by the officials.
The Afterschool for All Challenge is an annual event sponsored by the Afterschool Alliance that brings together Afterschool Ambassadors and State Afterschool Network leaders to Washington, D.C. to meet with their state representatives and senators to encourage them to support afterschool funding.
Carter said that while on Capitol Hill, he attended a Congressional hearing where the Afterschool Alliance shared new data from its "America After 3pm" national survey. The hearing focused on the physical activity and nutritional routines engaged in by youth each day after regular school hours are finished. Carter said that Sen. Barbara Boxer, (D-CA), spoke strongly about the need to continue the fight for quality afterschool programming and the sustained funding stream that supports it.
"What is now a hugely successful afterschool program would never have come into being without that funding opportunity," Carter said. "The elimination of those funds would have an incredibly negative effect on SAZ and the number of youth that we serve," he said. Carter said that New Hampshire has 78 "21st CCLC" afterschool sites with over 10,000 youth that would be severely impacted if the funding were to be eliminated.
Carter said that he hopes people will contact their state representatives and senators in support of afterschool programming. He encouraged people to visit the Afterschool Alliance or the New Hampshire Afterschool Network websites, the Seabrook Adventure Zone Facebook page, or to email him directly for information at forrest@seacoastyouthservices.org.
SAZ Program Director Forrest E. Carter Jr. is the new NH Afterschool Ambassador through the Afterschool Alliance! Please check out the link to know more about this initiative to promote the importance of afterschool programming in the state and the nation as a whole!
And check out the write-up in the Hampton Union!!
http://www.afterschoolalliance.org/ambassadors.cfm